AK Martial Arts & Fitness is pleased to announce a partnership with our sister school, Encinitas Karate to provide award winning camps for Fall, Winter, Spring & Summer! We have been voted one of the best summer camp locations IN THE COUNTRY! We support the Carlsbad, Encinitas, Rancho Santa Fe, Del Mar, San Marcos, Vista & Oceanside Districts. Call us if you need additional assistance in booking camps at 760-828-7165.  You can also email or text us at [email protected]
REGISTER FOR CAMPS BELOW!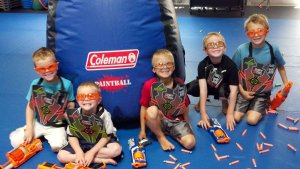 We are known for our camps.  Theme based, laser tag, Beam System, Glow In the Dark Dodgeball – we have it all.  Each camp has a unique, story driven theme, a dedicated and engaged staff and plenty of equipment and activities to make each week a special experience. Check out our current camp season list below!  All Camps are for Ages 5 and Up.  Camp activities are planned based on theme and age groups that sign up.  Camp Weeks include park fees, guest speakers, all camp supplies and materials.  
---
Fall & Winter Week Camps in Partnership with Encinitas Karate!
AK Martial Arts & Fitness and Encinitas Karate staff will be working together to provide you with the best camps of the season. For Ages 5 and Up. If you need assistance with your booking at Encinitas Karate, please contact us or you can call/text them directly at 760-635-3699. Hope to see you this Fall and Winter!